Guhantara Resort
Guhantara Resort
Things To Do In Guhantara
Guhantara Resort

Guhantara Resort is a resort in Bangalore located on Kanakapura main road. The entire resort is based on a cave dwelling theme and is probably India's first man-made underground resort. This is a great place for families to spend a day of leisure. If some people get bored of spending all their time in the resort, they have a wide variety of options available around the resort, too. Some of the options are-

The Art Of Living Center – This place is located at 9.1 km from the resort. This place screams peace and tranquility. Tourists who visit this place come back saying that this place enhance their spiritual growth. Some people perceive that this place drains the human body of all the negative energy and replaces it with positive energy.

International Pyramid Valley – This place is home to the world's largest mediational pyramid. With a capacity to accommodate more than 5000 people, this is considered to be one of the best meditation places in the entire world.

Wonderla – If children are part of the touring party, Wonderla is a place that everyone recommends. The variety of water sports, water rides, world-class infrastructure and many more allows every person, both young and old, to have the time of their lives.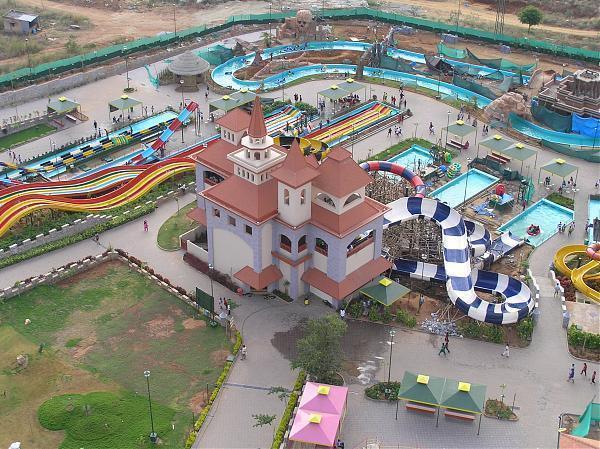 Wonderla | Image Resource : wikimapia.org
Bannerghatta Park – If parents want to reminiscence their childhood experience of visiting a zoo or want to provide the same experience to their kids, the Bannerghatta park is the only and best option available close to Guhantara. The highlight of this place is the Wildlife Safari. It is an enthralling experience to see wild animals at a very close distance.

The Butterfly Park – This is a unique place that houses all varieties of butterflies. The entry ticket is nominal and the knowledge about each species of butterfly is shared here.

Dirt Mania – This is located very close to the resort and is considered to be one of the primary attraction spots for motor-crazy tourists. Many people visit here because of the quad bikes; they provide a different level of experience all together to people who enjoy adventure sports.
Bannerghatta Park | Image Resource : blogspot.com

Unique Aspects of the Guhantara Resort

The names of the main areas of this resort are based on traditional Kannada names. For example, the exquisite auditorium is called Rangamandapa, the bar is called the Madhushala, the spa therapy area is called the Agastya Kuttera, the dining area is called Sambhojana, and a conference room that contains amenities like projector and Wi-Fi.

Families or office teams visiting this resort can engage in several activities like bicycle riding, zorbing, paintball, tunnel trekking, and many more. The group that has come for the day outing can relax and engage in all kinds of activities till the lunch break at 1:30 PM. For lunch, the variety of delicacies offered at Guhantara keeps all the age groups happy. There are two huge pools with a baby pool and a unique swimming pool with a waterfall. These pools improve the overall experience of the people visiting the resort.

Packages Offered are Privilege package, Day-out package, Hi Tea and Dinner, Full day package – This includes a welcome drink, breakfast, lunch, hi-tea, and dinner. Agastaya Kuteera is a unique place for Ayurveda massage here. Quality of service and ambience is marvelous and provides an amazing experience to all including adventure enthusiasts. Some activities offered include trampoline, bull ride, commando bridge, zip line and wall climbing So, enjoy the weekend or take a day's break to have a relaxing time at Guhantara.